Description
ASME Code Bladder Accumulator
---
1.Model code
AC-TR-11 / 30-F50-R (229)
一     一   一   一    一     一  一
1      2    3    4     5     6    7
1、Code:AC 
ASME Code Bladder Accumulator
2、Structure:
S-Standard(22mm);
B-Standard(50 mm);
T-Top Repairable;
L-High Flow
3、Nominal Volume,
Default: G(gal) , other: CI / PT / QT
4、Nominal Pressure,X 100 psi
5、Connection Type:
L-Thread connection;
F-Flange connection;
6、Media: Hydraulic oil:Y
Emulsion:R
Water: H
7、Shell Outer Diameter,mm
(omissible)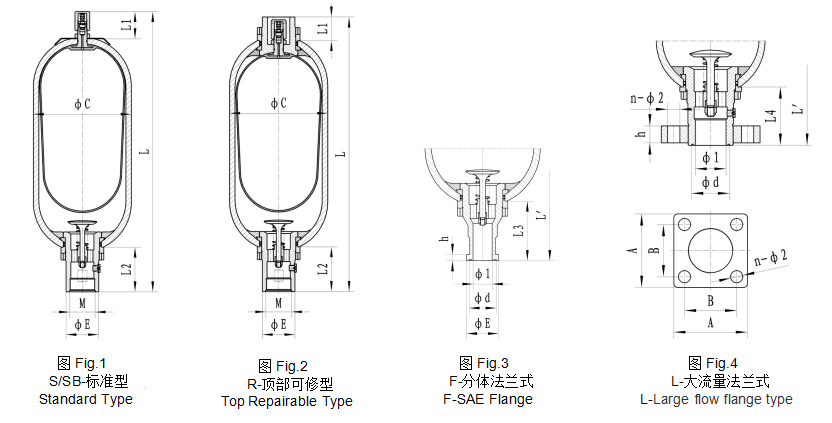 2.Sizes and dimensions
STANDARD ACCUMULATOR  (FIG.1)
SIZE

L/min

PSI

DIMENSIONS (mm)

Kg

Gal

L

L

L2

ΦC

L1

E

M

1 PT

0.47

170

3000

268

52

89

50

37

G3/4″
SAE#12
NPT3/4″

3.6

1 QT

0.95

227

3000

291

49

114

48

42

4.5

1.5QT

1.5

368

6.9

150 CI

2.5

493

9.1

1.0

3.8

605

3000

435

89

168

57

60

G11/4″
SAE#20
NP11/4″

15

1.5

5.7

544

19.5

1.0

3.8

605

5000

425

83

180

52

60

23

1.5

5.7

535

30

2.5

10

908

3000/
3500 APP

567

92

219

65

76

G2″
NPT2″
SAE#24
M60×2
M50×1.5

F40/50
P40/50
(Fig.3)

28

5

20

877

44

10

37

1397

71

11

42

1532

80

14

54

1922

100

15

57

2002

104

2.5

9.5

908

3000/
4000 APP

Stainless
1500PSI

554

92

229

65

76

G2″
NPT2″
SAE#24
M60×2
M50×1.5

F40/50
P40/50
(Fig.3)

34

5

18.9

865

55

10

37

1392

94

11

41

1532

105

12.5

47

1834

124

14

53

1922

130

15

57

1988

136

2.5

9.5

908

5000/
6600APP

566

86

245

74

76

G2″
NPT2″
SAE#24
M60×2
M50×1.5

F40/50
P40/50
(Fig.3)

55

5

18.9

872

92

10

37

1405

156

11

41

1545

174

12.5

47

1848

209

14

53

1935

220

15

57

2005

230
TOP REPAIRABEL ACCUMULATOR  (FIG.2)
SIZE

L/min

PSI

DIMENSIONS (mm)

Kg

Gal

Litre

L

L2

ΦC

L1

E

M

2.5

9.5

908

3000/
3500 APP

557

92

219

55

76

G2″
NPT2″
SAE#24
M60×2
M50×1.5

F40/50
P40/50
(Fig.3)

28

5

18.9

867

44

10

37

1387

71

11

41

1522

80

12.5

47

1822

85

14

53

1912

100

15

57

1992

104

2.5

9.5

908

3000/
4000 APP

Stainless
1500PSI

544

92

229

55

76

G2″
NPT2″
SAE#24
M60×2
M50×1.5

F40/50
P40/50
(Fig.3)

34

5

18.9

855

55

10

37

1382

94

11

41

1522

105

12.5

47

1824

124

14

53

1912

130

15

57

1978

136

2.5

9.5

908

5000/
6600APP

542

86

245

50

76

G2″
NPT2″
SAE#24
M60×2
M50×1.5

F40/50
P40/50
(Fig.3)

55

5

18.9

848

92

10

37

1381

156

11

41

1521

174

12.5

47

1822

209

14

53

1910

220

15

57

1978

230

6.5

25

1500

3000/
3600 APP

770

114

299

86

96

M72×2
Flange
(Fig.4)

86

10

40

1050

118

13

50

1230

139

16

63

1470

166

20

80

1810

205

25

100

2190

249

32

125

2600

274

16

63

2000

3000/
3600 APP

1180

140

351

90

114

G3″
M85×2
NPT 3″
-48 SAE

170

20

80

1405

206

25

100

1670

250

32

125

2000

304

40

160

2460

378

45

180

2710

420
SAE-Flange joint dimensions   (FIG.3)
Product Range

Pressure grade

SAE
Flange
Size

Q
L/min

d

E

h

F

L3

L'

2.5gal
~
15gal

3000PSI

F40

650

38

60.3

9.6

100

L2+27

L+27

F50

900

45

71.5

9.6

6000PSI

P40

650

38

63.5

12.6

P50

900

45

79.4

12.6
HIGH FLOW ACCUMULATOR 
SIZE

PSI

DIMENSIONS (mm)

Kg

Gal

Litre

ΦC

M

d

Φ1

A

B

n-Φ2

h

L2

L4

L

L'

2.5

9.5

3000

229

M72×2

80

65

155

110

4-Φ26

36

113

123

570

580

42

5

18.9

880

890

64

10

37

1418

1428

102

11

41

1548

1558

115

12.5

47

1850

1860

133

14

53

1938

1948

139

15

57

2003

2013

145

2.5

9.5

6000

245

M72×2

80

65

155

110

4-Φ26

36

105

115

586

596

63

5

18.9

892

902

100

10

37

1425

1435

164

11

41

1565

1575

182

12.5

47

1860

1870

217

14

53

1950

1960

228

15

57

2022

2032

238

注

Thread connection;Q=1500L/MIN

In the table is the weight of flange type products,

Thread type weight -8Kg

Flange connection;Q=1800L/MIN
Ordering Note
The nominal pressure is 3000PSI, the nominal volume is 11GAL, the connection type is SAE Flange connection DN50, the emulsion is used as the working medium, the outer diameter of the shell is 229, the shell structure type TR, the capsule accumulator is marked as: AC-TR-11/30-F50-R(229).
Note:
1. Corrected Pressure:3000PSI=20.7MPa ;5000PSI=34.5MPa;6600PSI=45.5MPa
2. Overall length shall be more longer +10mm for G1 1/4" ;connection and +13mm for G2" connection.
3. Q Max. Flow rate  L/min
Applications include conventional hydraulic systems, machine tools, engineering machinery and other fields. Our company has a group of experienced high-level engineers with doctoral and master's degrees in hydraulic, mechanical manufacturing, automation, and polymer materials, and has strong new product research and development capabilities. The company has a wide range of production and operation in the field of mechanical and hydraulic technology.