Description
DDZ Drill Pipe Elevator
Drill Pipe Elevator
General
Drill pipe elevator is designed and manufactured in line with API Spec 8C Specification for Drilling and Production Hoisting Equipment, and drill pipe elevator can be available with center latch models and side door models. Center latch models is modeled DDZ elevator, DDZ elevator is modeled "GG" "MGG" "HGG" in international famous brand, while side door models is modeled CDZ elevator in China.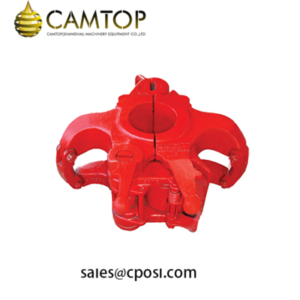 DDZ drill pipe elevator
Technical description
DDZ drill pipe elevators are conventional bottleneck type center latch elevators for handling 18 degree taper shoulder drill pipes in drilling operation, DDZ drill pipe elevators are cast from high quality alloy steel, heat-treated, NDT and MPI. Rated loads rang from 100ton to 500ton, and cover drill pipe sizes from 2⅜" to 6⅝" OD, IU, EU, or IEU, each drill pipe elevator is 1.5 times of the working load tested. DDZ drill pipe elevators are constructed in two halves of practically the same weight for better balance, and have a latch mechanism for the two halves at the center with latch and lock combination with a safety latch lock, link ears conform to API elevator links, handles are at rear and can be properly balanced while operating, each drill pipe elevator is provided grease nipples for lubrication of the movable pins, API monogram in conjunction with numbers, product series numbers are hard die stamped on shoulders of drill pipe elevators for tracing, and drill pipe elevators shoulders are die stamped with size of drill pipe and rated working capacity.
Partial technical data for DDZ drill pipe elevators are offered as follows:

Drill pipe

elevator

model

Drill pipe

elevator center

bore dimension
(mm)

Applicable for drill pipes
Rating

load

(ton)

Drill pipe

specs

(in)

Drill pipe

body size

(mm)

Drill pipe tool joint

upset dimension

(mm)

DDZ 67
67.47
2⅜EU
60.33
65.09
100

150

250

350

500

DDZ 83
83.34
2⅞EU
73.03
80.96
DDZ 101
100.81
3½EU
88.90
98.43
DDZ 109
108.74
4IU
101.60
106.36
DDZ 121
121.44
4EU
101.60
114.30
4½IU
114.30
119.06
DDZ 133
133.35
4½EU
114.30
127.00
5IEU
127.00
130.18
DDZ 148
147.64
5½IEU
139.70
144.46
DDZ 179
178.59
6⅝ IEU
168.28
176.21