Description
Rotary slips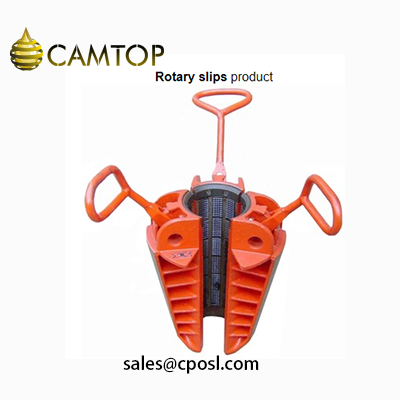 Key words: Rotary slips, handling tools.
Rotary Slips can accommodate drill pipe from23/8-51/2 inch (60.3-139.7mm)O. D…
They are classified as type Short (SDS), Medium (SDML)
And Extra Long(SDXL) according to gripping length.
SDS slips are designed for shallow hole drilling,
SDML slips are the perfect choice for all medium depth drilling,
SDXL slips are designed for deep drilling.
We could provide you qualified goods with positive price and fine deliver time. If you have any interest, please do not hesitate to contact with me!
Specification
Pipe size
Inserts
in
mm
Code
Quantity
SDS
3½
2⅜
2⅜
60.3
2160
24
2⅞
2⅞
73
2161
24
3½
3½
88.9
2162
24
4½
3½
3½
88.9
2163
36
4
4
101.6
2164
36
4½
4½
114.3
2165
36
SDML
3½
2⅜
2⅜
60.3
2160
30
2⅞
2⅞
73
2161
30
3½
3½
88.9
2162
30
4½
3½
3½
88.9
2163
45
4
4
101.6
2164
45
4½
4½
114.3
2165
45
5
4
4
101.6
2168
45
4½
4½
114.3
2166
45
5
5
127
2167
45
5½
4½
4½
114.3
2168
45
5
5
127
2169
45
5½
5½
139.7
2170
45
SDXL
4½
3½
3½
88.9
2163
54
4
4
101.6
2164
54
4½
4½
114.3
2165
54
5
4
4
101.6
2168
54
4½
4½
114.3
2166
54
5
5
127
2167
54
5½
4½
4½
114.3
2168
54
5
5
127
2169
54
5½
5½
139.7
2170
54